Propotec Ltd - Damp Proofing Specialists in Cambridge
About Us
Propotec have been established since 1970 and provide an outstanding service to all types of clients from domestic to commercial. Propotec have surveyors and technicians comprehensively trained to carry out surveys at your premises and can normally be with you in less than 48 hours to carry out the inspection. We are more than confident that we can help you no matter how big or small the job is. Propotec Ltd are a member of The Property Care Association.
Damp Specialists in Bury St Edmunds & Newmarket
We consider ourselves the damp specialists that can provide damp proofing services across many areas such as Cambridge, Saffron Walden, Bury St Edmunds, Newmarket. The major cities and counties we cover range from London, Lincolnshire, Nottinghamshire, Northamptonshire, Hertfordshire, Essex, Cambridgeshire, Norfolk and Suffolk.
Our Services
We offer our domestic and commercial clients a range of different services such as damp proofing, woodworm, wet & dry rot, waterproofing and tanking. Many of our client's properties have been affected by mould forming in their household or building through dampness gathering. At Propotec we have the right advice and solution to solve your mould issues.
Our experienced surveyors will provide a report identifying the type of problem, the exact source, and recommend the most effective cure. Once the estimate is approved, one of our own highly trained and experienced teams will normally start work within 10 days.
All working specifications conform to the Codes of Practice laid down by the Property Care Association, with a guarantee of 30 years for damp proofing and 10 years guarantee for tanking.
Get In Touch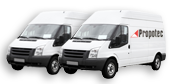 Are you in need of damp specialists in Cambridge or any other area such as Bury St Edmunds, Saffron Walden, Newmarket, London, Northamptonshire, Nottinghamshire, Lincolnshire, Hertfordshire, Huntingdon, Essex, Cambridgeshire, Norfolk and Suffolk
Then you can ring us on 01638 741 377 or free phone 0800 269 422 and one of our advisors will be more than happy to help you with your enquiry.
Alternatively you can fill out the contact form on the contact us page and one of our advisors will be in touch with you regarding your enquiry.